Healthy Foods to Feed Growing Kids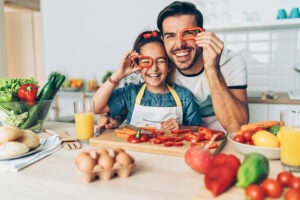 Kids between the ages of two and 12 grow very quickly. For them to stay healthy, they need the right diet, with foods that provide protein, calcium, iron, and vitamins to promote proper development. This can be challenging, because young children are often picky eaters. It's important to be consistent, offering healthy options and setting a good example. To foster appropriate development of mental and motor skills, offer grains, fruits, vegetables, dairy, and protein, including these top picks from dieticians.
Berries: Strawberries, raspberries, and blueberries are delicious and packed with vitamin C, antioxidants, and phytonutrients. These nutrients help boost the immune system and protect cells from damage. They're easy to incorporate in a child's diet, too, whether on their own, in pancakes or muffins, or as toppings for yogurt, ice cream, or cereal.
Fruit: Apples, pears, oranges, banana, mango, and kiwi are all excellent choices, tasty and full of vitamins, minerals, fiber, antioxidants, and plant polyphenols. Kids can snack on them, or you can incorporate them into baked goods and smoothies or use them to top oatmeal or yogurt.
Eggs: A great source of choline, protein, and vitamins, eggs are good for brain development. They're easy to prepare, boiled, fried, or scrambled, or added to soup, oatmeal, gravy, rice, and noodles, or in desserts like custard.
Dairy: Cow's milk and cheese contain calcium, phosphorous, vitamin D, and protein, for healthy bones and muscles. For children under two, full-fat milk is the best option, for extra energy. Milk is easy to drink at meals, have with cereal or cookies, or blend with fruit for smoothies. Cheese is a good snack, especially mild varieties like mozzarella or American cheese. Serve slices, cubes, or strings, or melt cheese on toast or pizza, or sprinkle grated cheese over noodles.
Colorful Vegetables: Make a game of seeing how many different colors your child can eat, because brightly colored fruits and vegetables have powerful antioxidants. Root vegetables like carrots, beets, sweet potatoes, purple potatoes, potatoes, and parsnips are loaded with potassium, magnesium, fiber, beta-carotene, iron, and vitamins A, B and C, among other nutrients. Green vegetables like broccoli, cabbage, kale, Brussels sprouts, and arugula, along with cauliflower, provide folate, fiber, phytonutrients, and vitamins A, C, and K. These nutrients strengthen the immune system, lower inflammation, and can even reduce the risk of cancer. Try different vegetables, prepared different ways, in stews, mashed, baked into goodies, baked into chips, or raw, with your child's favorite dip.
Legumes: Legumes, including beans, peas, and lentils, provide fiber, vitamin B, iron, calcium, magnesium, phosphorus, and protein. And guess what? Peanuts are also a legume, so your child's favorite peanut butter is full of nutrition plus healthy monounsaturated fats. Make sure when you choose peanut butter, though, that you pick a brand with no added sugar, palm oil, or partially hydrogenated fats. You can probably think of several ways to feed your child peanut butter, but other legumes are versatile, too. Add them to soups, stews, chilis, casseroles, and salads, serve as side dishes, or blend them and use them as a base for baked goods and sauces.
Whole grains: Avoid processed white flour, opting for whole wheat flour instead, to reap the benefits of the naturally contained zinc, iron, copper, magnesium, vitamins E and B, phytonutrients, and antioxidants, as well as the fiber that can help maintain digestive health. Remember, whole grains include brown rice, quinoa, buckwheat, bulgur wheat, barley, oats, millet, and corn, so you have a lot of options.
Meat and Fish: Great sources of protein, these foods provide other important nutrients, too. Beef and chicken contain important vitamins, like vitamins A, B, D, E, and K, as well as minerals like iron, zinc, magnesium, and phosphorus. Chicken is higher in vitamins, while beef has more minerals. Fish has omega-3 fatty acids, for eye, brain, and nerve development.
Seeds: Work sunflower, pumpkin, hemp, chia, and flaxseeds into your child's diet for a healthy dose of vitamin E, minerals, fiber, protein, and healthy fats.
A healthy life for your child begins in the womb, and at the Center for Vasectomy Reversal, we love helping people start families with healthy pregnancies. We pride ourselves on helping men improve their fertility through uncompromising, concierge-level patient care. Under the direction of Dr. Joshua Green, our team provides state-of-the-art treatment for men who need a reversal of their vasectomy or have other fertility concerns. To learn more, contact us through our website or call 941-894-6428.