Why it's Important for Men to Talk About Mental Health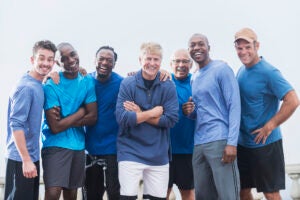 Mental health issues have become a common topic of discussion since the beginning of the COVID-19 pandemic. What's not always part of the discussion, though, is the risk mental health issues pose to men. Men are often reluctant to discuss depression and other mental health issues, yet research indicates that men are up to four times more likely than women to die from suicide. In fact, according to the American Foundation for Suicide Prevention, men make up about 70 percent of suicide deaths annually. What can be done to stem this tide? The first step is more open communication.
While over 6 million men in the United States experience symptoms of depression each year, and more than 3 million suffer from anxiety, men are less likely than women to seek mental health support. The reason for this has to do with cultural stigmas. Outdated ideas about gender and mental health can discourage men from seeking treatment, and men are more likely than women to buy into some of these detrimental and destructive points of view. Ideas about men with depression being dangerous or unreliable are among these viewpoints, as is the perception that men should be able to "snap out of" depression and "man up." It's no wonder that men who have heard and internalized these thoughts would be reluctant or embarrassed to seek formal treatment for depression.
Men are also less likely to talk to their peers about issues that are troubling them. While a man may be feeling financial pressure and the stress of supporting a family and balancing home and work life, he's unlikely to talk about these stressors. This can lead to symptoms of depression that include bad moods, apathy, inability to sleep or sleeping too much, or feelings of anxiousness, restlessness, or racing thoughts. While women often seem sad or down when they're depressed, men are more likely to display anger or aggression, or self-medicate through substance abuse. It's important to notice these signs in the men in your life, so that you can encourage them to talk about what's going on.
Talking about mental health is important and beneficial. Opening up about stressors can bring a sense of relief and make a person feel less isolated. What's more, the more people talk about their mental health, the more the topic is normalized, allowing other people to feel they can talk about it too. Talking about mental health can bring out compassion and understanding, not just for others but also for yourself. It also can make a person feel more in control of the situation, once it's finally out in the open. By beginning to talk, first to close friends and loved ones, then to a health professional, a person can find strategies for coping with mental health issues like depression and anxiety, leading to a healthier life.
At the Center for Vasectomy Reversal, we care about all aspects of men's health. We pride ourselves on helping men improve their fertility through uncompromising, concierge-level patient care. Under the direction of Dr. Joshua Green, our team provides state-of-the-art treatment for men who need a reversal of their vasectomy or have other fertility concerns. To learn more, contact us through our website or call 941-894-6428.