Nursery Decor Ideas and Tips
Of all the things you must do to prepare for the arrival of a new baby, decorating the nursery may be the most fun. You get to daydream about your new little one as you design a space that's fun and functional as well as beautiful. Here, we offer some tips for making the most of your nursery's décor.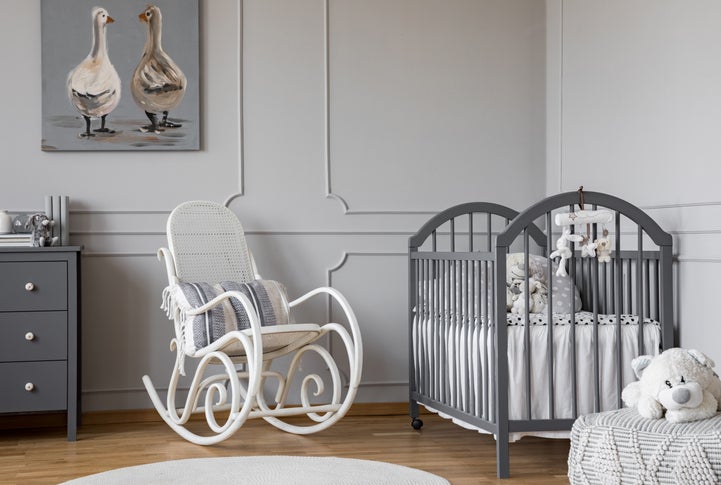 Start with the crib. You may think of a crib as a temporary piece of furniture, but some kids stay in their cribs until they're two or three years old. With cribs that convert to toddler beds and even full-size beds, you may get even more years out of it than that. Look for a crib that meets all safety standards and suits your aesthetic sensibilities, and if you plan to have more than one child, keep it gender-neutral. To go with the crib, you'll need at least 5-6 fitted sheets, but skip the crib sets.
Do you need a changing table? This is actually a hotly debated topic. Sure, it's convenient to have all the storage a changing table provides, but a piece of furniture solely devoted to babyhood is likely to have an expiration date. Many parents opt for a dresser with a changing top, because when you're out of the diaper phase, you'll still need a dresser.
One thing you do need is tons of storage. Arrange your nursery so that everything you need for a change of diapers or clothes is within easy reach of the changing table. This means diapers, wipes, changing table covers, burp cloths, pacifiers, toys to distract- anything you can think of needing, and extras of everything. You don't want to have to step away from the changing table to reach something when you're mid-change. Beyond that, you'll need storage for all the baby stuff, so that it doesn't end up tripping you in the middle of the night.
Choosing a theme will help guide your décor. Find one thing that speaks to you, whether it's a book, a painting, or some other piece of the nursery, and build your décor around it. It's smart to keep the paint color and furniture neutral and accessorize within your theme. Don't forget to include personal items like family photos and other elements that represent your loved ones.
Remember that babies grow. However you decide to decorate the nursery, make sure that your décor is easy to change as your baby grows into a child. From furniture to storage to artwork, everything should grow with your little one.
If you need help with fertility in order to fill your dream nursery, Center for Vasectomy Reversal is here to help. Under the direction of Dr. Joshua Green, our team provides state-of-the-art treatment for men who need a reversal of their vasectomy or help with their fertility. To learn more, contact us through our website, or call 941-894-6428 to arrange a free consultation.