How to be Supportive During Your Partner's Pregnancy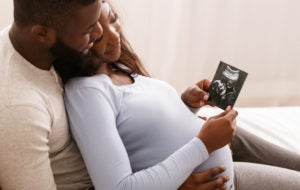 Many expectant parents are excited about the arrival of a new child, but sometimes, pregnancy brings a bundle of stress along with the joy. It's easier to face the many changes, unknowns, and lengthy to-do lists when a man and woman act as partners in the pregnancy. A partnership strengthens the relationship, lowers anxiety, and increases the chance of a smooth transition into parenthood. Follow these tips to help you support your partner during her pregnancy.
Educate Yourself
The more you learn about your partner's body and the changes she's experiencing, the more effectively you can support her. It's also wise to educate yourself about childbirth and infant development, so you know what to expect when the baby arrives. Here are some resources to guide you:
Read pregnancy books with helpful week-by-week details.
Attend childbirth classes and doctor visits where you can ask specific questions of educators and healthcare providers.
Speak with other new parents, including friends and family, who may be eager to talk about how they navigated unique pregnancy challenges.
Provide Emotional Support
If you notice your partner struggling emotionally or dealing with high stress, step in with these tips:
Encourage and reassure your partner.
Ask her how you can help, and then follow through.
Shower her with affection.
Help her make difficult lifestyle changes, such as giving up alcohol alongside her.
Encourage her to take breaks and rest more, being aware that pregnancy hormones increase a woman's need for sleep.
Talk to your partner about her desire for intimacy.
Take walks together, where you can get some exercise and have time to talk.
Reach out to a counselor, therapist, or healthcare provider if you feel your partner could use help for anxiety or depression.
Offer Physical Support
As your partner's body undergoes tremendous change, be prepared to offer your physical support in the following ways:
Take on more responsibilities at home, such as cooking and cleaning.
Be open to eating different foods if your partner's nausea or cravings change her usual diet.
Don't smoke around her. Seriously consider quitting or at least cutting back.
Offer back massages and foot rubs to ease her stress and pain as the pregnancy progresses.
Help her check items off that long to-do list.
Make sure your partner knows you're planning to be an involved father. This includes helping to feed, change, and bathe your baby to give her a break. If you have other children, volunteer to handle more of their care during the first few weeks of the baby's arrival.
At the Center for Vasectomy Reversal, we love helping moms and dads build their families together. If you're ready to begin your journey into parenthood, we're here to help. Our team offers state-of-the-art treatment for men seeking vasectomy reversal under the direction of Dr. Joshua Green. To learn more, please call our Sarasota, FL clinic at 941-894-6428 and schedule a free consultation.