How to Baby Proof your Home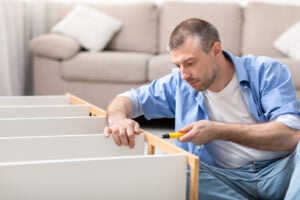 When you are about to have a baby, it can be alarming to look at all the hazards in your home. Your space, which has always seemed benign or even inviting, may now seem like a virtual deathtrap, with danger lurking everywhere. Relax! It's not as bad as it may seem, and babyproofing is not too overwhelming if you take it step by step.
First, think about the reasons behind babyproofing. It's important to keep hazards out of the way of children, not just to keep the little ones safe, but also to make it easier to parent. It's no fun to constantly say "no", but you can set yourself and your child up for success by creating an environment that's comfortable and safe.
Look for major hazards throughout the house. Anything broken, paint that's chipped or peeling, wallpaper that's coming unstuck- fix those things. Make sure your water heater is set below 120° F, and that your smoke and carbon monoxide detectors are in good working order. If you live in a home built before 1978, check for lead paint; hire a lead-safe contractor to fix it if you find it. Cover electrical outlets and secure any piece of furniture or heavy electronic item that could tip, using safety straps or anchoring things to the wall. If you use window blinds, consider choosing cordless blinds. If your existing blinds have cords, use cord safety wraps.
Keep small children out of the bathroom. Babies and toddlers are drawn to water, which makes toilets, sinks, and bathtubs hazardous. Additionally, bathrooms tend to have cleaning supplies and medications. The best course of action is to secure the cabinets, drawers, and toilets with child locks and then put a doorknob cover on the outer handle.
Kitchens need special attention. Install magnetic childproofing locks in the cabinets, secure drawers, and lock hazards like liquor cabinets and medicine cabinets. Use stove knob covers and turn the handles of pots and pans inward so a child can't grab them and pull down hot food. Store cleaning supplies, including laundry detergent, out of children's reach. Put non-skid pads under rugs and find a way to contain children while you're cooking.
Do a sweep of the whole house. In the nursery, make sure your crib is safe with crib rails at the appropriate level and no toys, blankets, or bumpers in the crib. Choose a toy box that's safe, with no heavy lid, and put finger guards on door hinges. In the living areas, pad corners of furniture, skip tablecloths because of the danger of kids tugging on them, and install window guards.
At Center for Vasectomy Reversal, we love helping to create healthy, happy families. Under the direction of Dr. Joshua Green, our team provides state-of-the-art treatment for men who need a reversal of their vasectomy or have other fertility concerns. To learn more, contact us through our website or call 941-894-6428 for a free consultation.