Benefits of Having Children Later in Life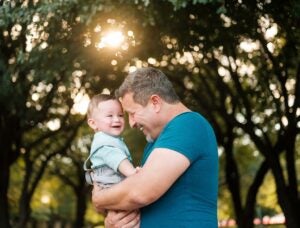 Is your biological clock ticking? There's a lot of press given to the scary aspects of waiting to build a family, like aging sperm, declining eggs, and the risks of pregnancy over age 35. Of course, it's always important to talk to your doctor about your risks before you decide to try to conceive a child. However, there are actually some really great things about being an older parent.
Science shows that having kid later in life may make you mentally sharper. One study showed that women who had their last child after age 35 had better verbal memory and cognition, and that women who didn't start having kids until after age 24 were better problem solvers than those who had been younger when they became moms. Additionally, some research indicates that women who have children after age 33 are likely to live longer than those whose last child is born before they turn 30.
Your child may be healthier if you're an older parent. Recent research indicates that small children with older mothers tend to be healthier, with fewer accidental injuries as well as fewer social and emotional difficulties. One study even links longer lifespan with having an older father. While aging sperm can contribute to chromosomal abnormalities, this new research shows that it might also produce children with chromosomal traits linked to longevity that lasts two generations.
Children of older parents are often smarter. Remember that study of small children of older moms that said they're healthier? It also determined that they're typically more advanced in their language skills. Research from both the U.K. and U.S. shows that kids born to older dads are more likely to have a high IQ and a stronger ability to focus on their interests. Less distracted by a desire to fit in socially, they're more likely to be successful educationally, leading to a stronger socioeconomic status. And because older parents are likely to be better educated, their children are often more tech-savvy and well-educated.
Waiting to have children may lead to more emotionally stable parenting. Many older parents feel that they're more emotionally prepared for children than they were at a younger age, and research suggests that this is true. Because older parents have more life experience and maturity, they're less likely to yell at or harshly punish their children.
The financial stability that comes with being an older parent is helpful. A large body of research supports the idea that financial stability is linked to better health outcomes. There's also significant evidence that children with more financially stable parents are likely to achieve a higher rate academic success.
At Center for Vasectomy Reversal, we love helping to create healthy, happy families. Under the direction of Dr. Joshua Green, our team provides state-of-the-art treatment for men who need a reversal of their vasectomy or have other fertility concerns. To learn more, call 941-894-6428 or contact us through our website.